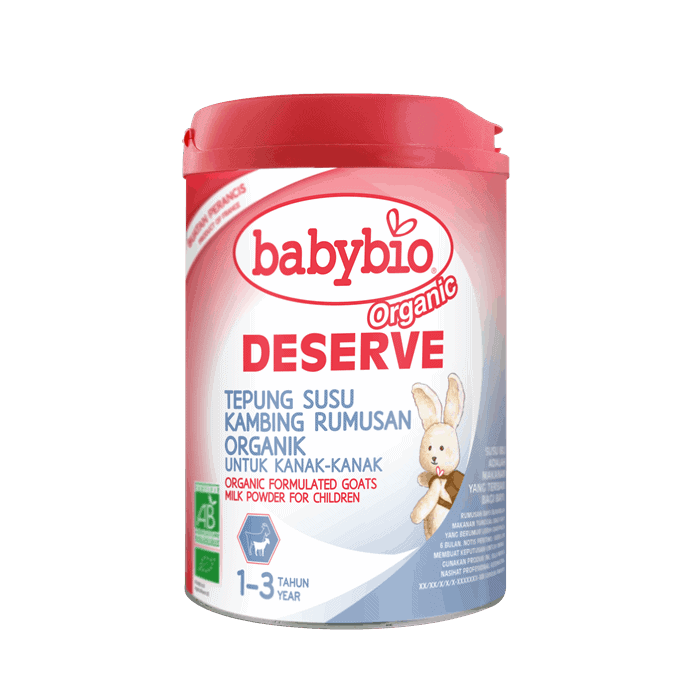 In stock
Babybio Deserve Formulated Goat's Milk for Children, 1 – 3 years, (900g)
RM159.00
Babybio Organic Formulated Goat's Milk for Children is carefully developed from certified organic ingredients…
Description

Additional information
Babybio Organic Formulated Goat's Milk for Children is carefully developed from certified organic ingredients to meet nutritional requirements of toddlers from 1 – 3 years. This formulated milk provides important nutrients at optimum level to support healthy growth, physical and mental development of your child.
Quality
All the ingredients from agricultural origin are 100 % organically grown. Free from pesticide and herbicide residue.
It is formulated using milk from goats that graze freely and that are fed on an organic diet without using antibiotics or growth hormones.
Contains essential fatty acids from first cold pressed vegetable oils to support brain and nerve development.
Nutritional composition is in compliance with the latest paediatric recommendations to support optimum physical and mental development of toddlers.
France
Ingredients
Whole goat milk in powder (37%), corn maltodextrins*, vegetable oils* (oleic sunflower*, rapeseed*, sunflower*), lactose*, minerals (calcium carbonate, magnesium chloride, dipotassium phosphate, potassium hydroxide, ferrous sulfate, zinc sulfate, sodium selenite, copper sulfate, potassium iodide, manganese sulfate), vitamins (sodium L-ascorbate, retinol acetate, cholecalciferol, nicotinamide, phytomenadione, D-panthothenate calcium, D-biotin, cyanocobalamin, thiamine mononitrate, pyridoxine hydrochloride, riboflavin, folic acid, DL-alpha tocopherol, ascorbyl palmitate, acetate D-alpha-tocopherol), L-tryptophan, L-isoleucine.
* Ingredients of agricultural origin, organically grown.