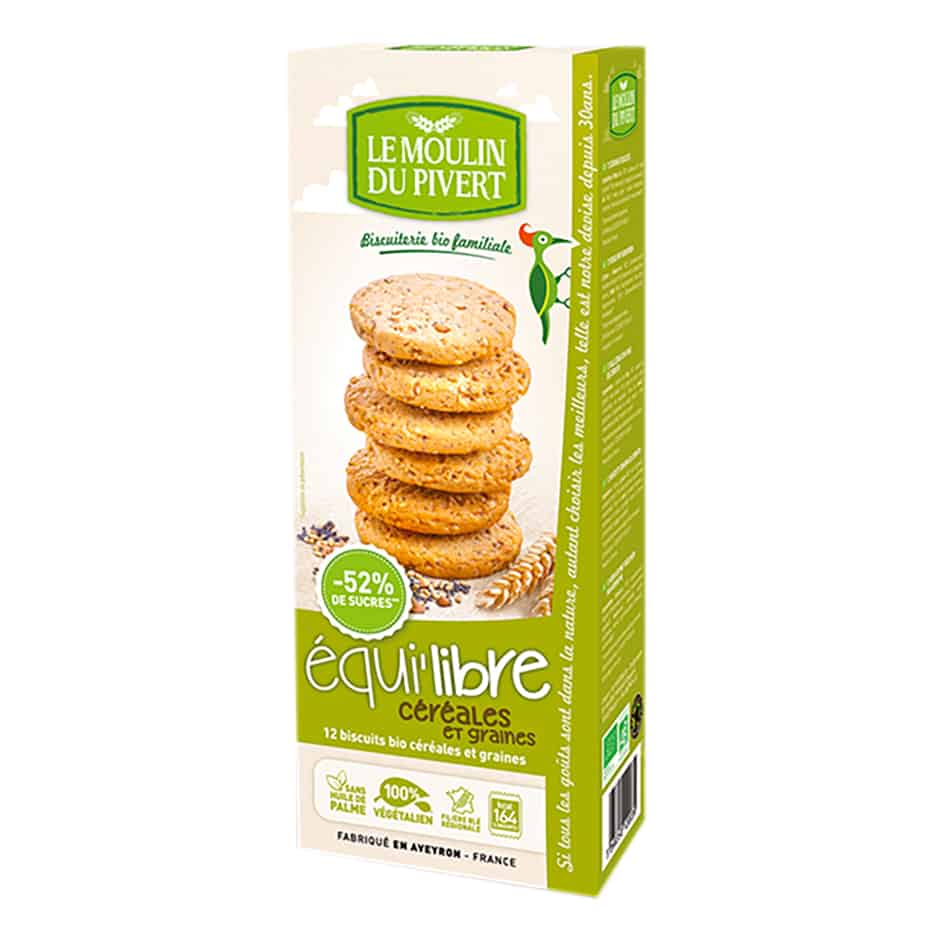 In stock
Le Moulin Organic Biscuits with Cereals & Seeds Biscuits , 150g
RM24.00
TThis range of balanced cookies, 100% vegan, guarantees reduced sugar content. Our secret for their creation is the combination of wheat flour and spelt meal ground at the Montricoux family mill (Tarn-et-Garonne), wheat syrup and gourmet organic ingredients. Our Equi'libre grain and seed cookies, based on sesame seeds, lightly toasted hazelnuts, crunchy buckwheat and poppy seeds, contain 52% less sugar than the main average cookies on the market…
Description

Additional information
"A new, 100% vegan, reduced-sugar range, for the pleasure of variety! Fall for, bite in, and succumb to these delicious cookies. Irresistibly compelling".
Our Equi'libre grain and seed cookies, based on sesame seeds, lightly toasted hazelnuts, crunchy buckwheat and poppy seeds.
Contain 55% less sugar than the main average cookies on the market…
TRICK OF THE CHEF PIVERT :
In individual packs of 2, you can take them everywhere with you and peck away at them without any guilt. 6 x 2 biscuits/pkt inside a box.
Quality
Freshly baked from certified organic ingredients
Uses fair trade ingredients
Dairy free and suitable for vegan
Less sugar (55% than average)
Free from trans-fat
Free from artificial additive such as synthetic preservative, coloring and artificial sweetener
Ingredients
Small spelt flour*, wheat flour*, wheat syrup*, sunflower oil*, sesame seeds*, apple juice concentrate*, hazelnuts*, buckwheat*, poppy seeds*, oat fibre*, sodium and ammonium bicarbonate, lemon juice concentrate*.
* Ingredient from certified organic farming.
Country of Origin
France
| | |
| --- | --- |
| Weight | 0.3 kg |
| Product Dietary Choices | Vegan |