Raw Organic Protein
Sprouted, Bio-fermented, Whey & Soy Free, Vegan Whole Food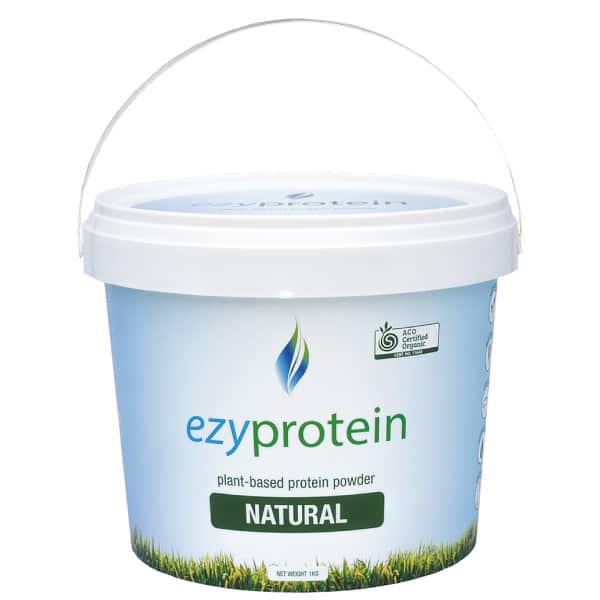 Ezyprotein's range of plant-based protein powders are made from organic wholegrain brown rice, ensuring only the most raw and balanced nutrition for you!
Complete Protein made from Sprouted Wholegrain Brown Rice
Certified Organic by ACO
Made with 80% Protein
Complete Protein with All 9 Essential Amino Acids
Over 90% Digestion Efficiency
Real Wholefood
High in Plant Enzymes & Phyto-Nutrients
Non-GMO
Dairy-free
Wheat-free
Gluten-free
Cholesterol-free
Hypo Allergenic
No Added Sugar
No Added Fructose
No Added Colours
No Preservatives
Whole & Complete, Finally!
1. Plant-based & Soy-free
Made from 100% certified organic sprouted whole grain brown rice.
2. Sprouted & Bio-fermented Rice
A special bio-fermentation process pre-digests the sprouted brown rice in ezyprotein resulting in a very low carbohydrate, high protein content (80%) with a high digestion efficiency of over 90%. Making it extremely easy for the body to digest and absorb.
Processed and dried at a very low temperature to retain all plant enzymes and phyto-nutrients.
4. Complete & Balanced Protein
A natural processing method is used to produce very high protein content that is not just complete but balanced. Containing all 9 essential amino acids at a perfect ratio to meet our body's needs.
5. No Added Nasties or Allergens
100% wholesome, naturally hypo-allergenic and is very kind on your tummy! Better tasting even without additives. A new and healthier replacement for processed proteins from pea, soy and whey.
No "Whey" but the Results
1. Plant-based? No "Whey"!
ezyprotein had been proven in a double-blind, placebo-controlled clinical trial to be equivalent to whey protein isolate1.
The trial concluded that sprouted and fermented wholegrain brown rice protein administration post resistance exercise decreases fat-mass and increases lean body mass, skeletal muscle hypertrophy, power and strength comparable to whey protein isolate.
1. The effect of 8 weeks of whey or rice protein supplementation on body composition and exercise performance. -Jordan M Joy. Nutrition Journal 2013, 12:86

ezyprotein has a Protein Digestibility Corrected Amino Acid Score (PDCAAS) of 1, the highest rating you can get and equivalent to whey protein.
2. My Way, Your Way, Everyone's "Whey!"
Daily protein intake from our daily diet is hardly sufficient. We need whole protein everyday as our body's raw material. Specially recommended for:
Vegetarian, vegan or a raw foodie.
Pregnant and nursing mothers.
Growing children or teenagers.
People on diet or weight control.
Athletes to help build lean, healthy muscles.