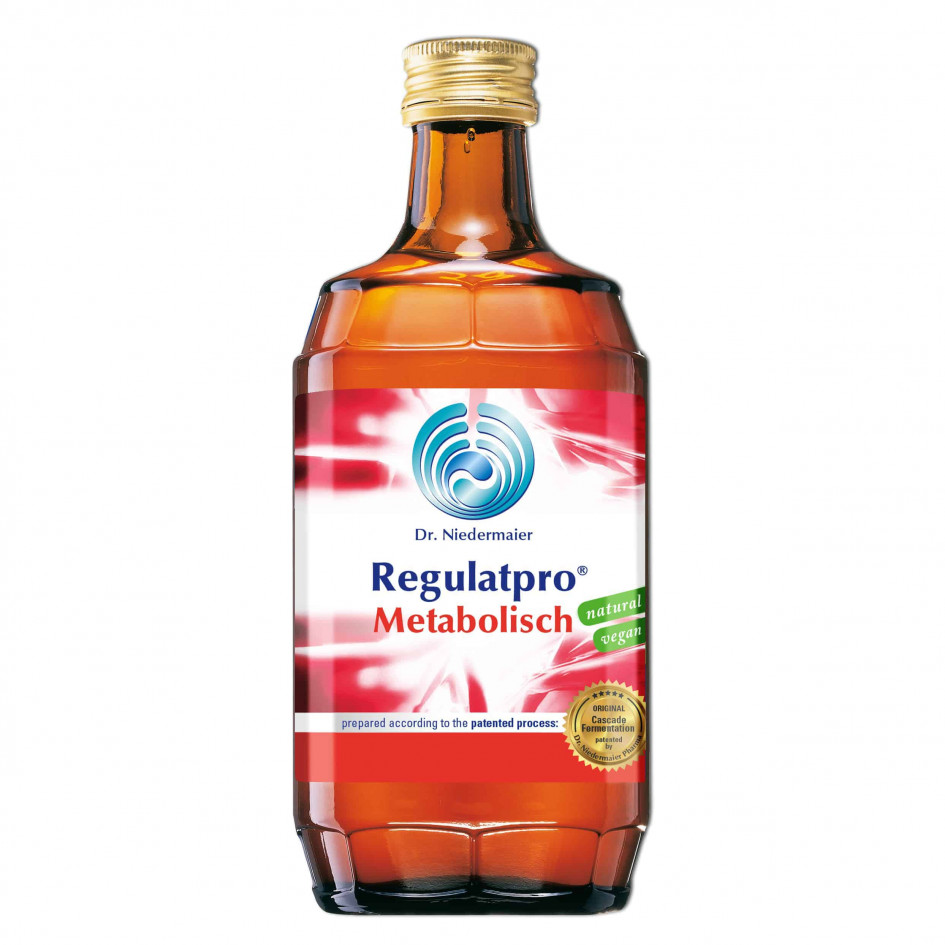 In stock
Regulatpro® Metabolisch 350ml
RM330.00
What Makes Us Different? Cascade Fermentation Fermented with EU patented technology. Through this dynamic…
Description

Additional information

Benefits
What Makes Us Different?
Cascade Fermentation
Fermented with EU patented technology. Through this dynamic multi-stage fermentation method, which takes 6-12 weeks time, all ingredients are broken down to their smallest molecular parts. The valuable substances are then highly concentrated into a form that can be absorbed immediately by the body.
Wholly Organic Superfood Ingredients
15 varieties of organic fruits, vegetables and nuts carefully selected and fermented for their therapeutic properties.
Nutrient Taxi
Regulatpro® "fetches" nutrients to the parts of your body that need them the most while increasing your body's absorption rate by up to three times. Get the most out of your daily diet and other supplements.
Special Formulation for Extra Boost
An intelligent formulation that boosts body functions and energy levels. Contains 85% Regulatpro® Bio enriched with trace minerals and vitamins. Formulated to optimise energy levels for those with sedentary lifestyles; provides extra "boost" for those with active lifestyles.
Over 80 Years of Expertise
A breakthrough innovation developed in Germany by Dr. Niedermaier Pharma, the pioneer in European natural herb industry, as a result of over 30 years of research.
Proven Results
Used by countless doctors, scientists, alternative therapists and vets, provided convincing results and testimonials.
Qualities
• Vegan friendly
• Non dairy
• No alcohol
• No added sugars
• No gluten
• No preservative
• No colorants
• No allergen
• No histamin
• Tested free from anabolic androgenic steroids & stimulants
Weight
0.75 kg
Product of

Germany

Ingredients

REGULATESSENZ – Cascade-fermented concentrate (Water, lemon*, figs*, dates*, walnuts*, soy beans*, onions*, coconuts*, glycerin (vegetable), celery*, mung bean sprouts*, acerola extract*, artichokes*, peas*, millet*, spices*, curcuma*, saffron*), orange juice concentrate, magnesium citrate, acerola extract, vanilla pod extract, zinc chloride, manganese sulfate, calcium-D-pantothenate, nicotinamide, cholecalciferol, pyridoxine-hydrochloride, riboflavin, thiamine hydrochloride, pteroylmonoglutamic acid, chromium (III) chloride, cyanocobalamin.

*ingredients from certified organic agriculture

How To Use

For Adults (age 14 years and above):
take 10 ml Regulatpro® twice a day neat or mixed in some water (not hot) before breakfast and before sleep.

For Children:
1-2 years: 2.5 ml 1x daily
3-6 years: 2.5ml 2x daily
7-13 years: 5ml 2x daily

TIP: For better absorption, keep in the mouth for one minute before swallowing.

Allergy-Friendly: Regulatpro® is suitable for allergy sufferers. All ingredients are cascade fermented, taking them will not trigger allergies.

Storage

Protect against heat and direct sunlight.

Refrigerate and consume within 1 month after opening.
Benefits
BENEFITS OF CASCADE FERMENTATED LIQUID CONCENTRATES
• Normalised balance of enzymes.
• Maintain acid-alkaline balance.
• Increased ATP energy metabolism in the cells.
• Adjusted metabolism.
• Activated biochemical processes.
• Balanced digestion and assimilation of nutrients.
• Protection against formation of free radicals.
• Elimination of toxins from the body.
• Balanced intestinal micro-flora.
• Strong immune system and balanced antioxidative processes.