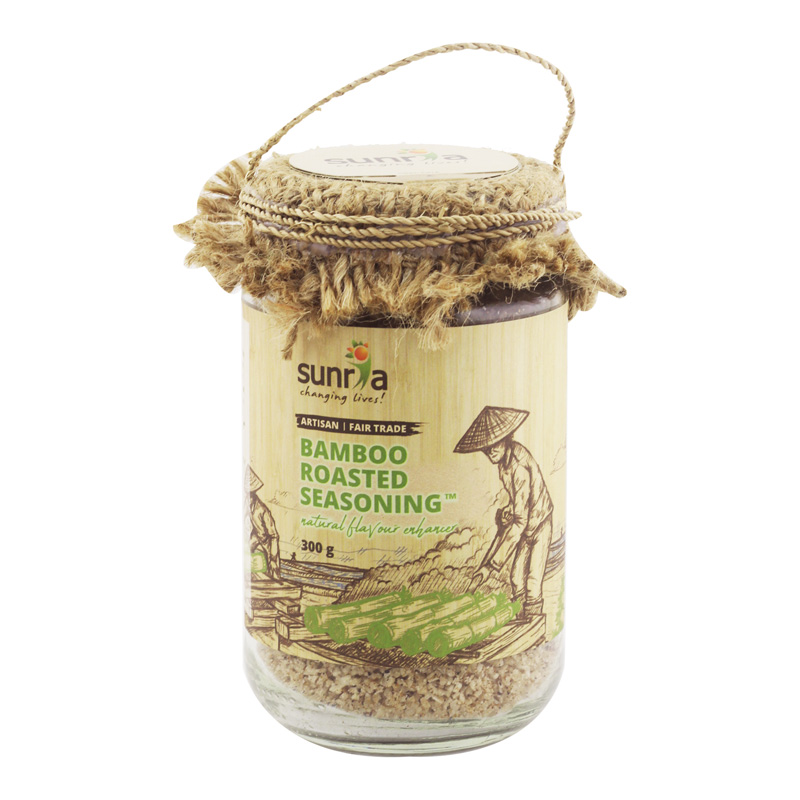 In stock
Sunria Bamboo Roasted Seasoning 300g
RM28.00
Sunria works hand in hand with the local community living in coastal area to produce finest seasoning. Empowering them with skills to handcraft sea salt and introducing fair trade practices has helped many low-income families.
They are now able to earn sustainable income and help to conserve unpolluted, clean beach environment for their people and nature.
Description

Additional information
Sunria Bamboo Roasted Seasoning is a one-of-a-kind seasoning with magical ability to enhance and release the deepest flavours of your food, allowing you to taste and smell it much more!
Uniquely roasted inside bamboo tube with spices, Javanese sea salt turns into natural flavour enhancer that elevates your dishes to be extraordinary and tantalising to your taste buds.
It has complex flavour with earthly umami aroma, perfect as seasoning, cooking, marinades for barbeque dishes. Let your senses be spellbound!
Perfect for Vegetarian
I am a vegetarian and I do a lot of stir-fries. When I cook with this seasoning, my vegetables seem to have more flavour. It is not easy being a vegetarian, and this helps me satisfy my senses. It is such a unique innovation.
Make perfect barbeque
When I saw this seasoning the first thing wanted to try was for barbeque. I added this, and the taste was amazing with wonderful aroma! It does make your barbeque smell good and highlight the taste. And I like it! Thank you Sunria Bamboo Seasoning!
Product Highlight
Excellent for Seasoning when I add this seasoning, it is the perfect texture to melt easily and my cooking taste wonderful. Good for seasoning!
Quality
100% natural
Whole with trace minerals
Unrefined and unbleached
No harmful chemicals
Sea water collected from pristine sea of Java
Fair trade
Ingredients
100% natural sea salt
Country of Origin
Indonesia
Weight
0.350 kg
Brand

Sunria

Benefits

Sprinkle on food for taste enrichment.

Cooking Directions

This sea salt is very versatile – soups, salads, sauces, stews, roasts and much more can be refined by the aromatic with it.

Storage Instructions

Keep in a cool dry place and use clean, dry spoons for  measuring.