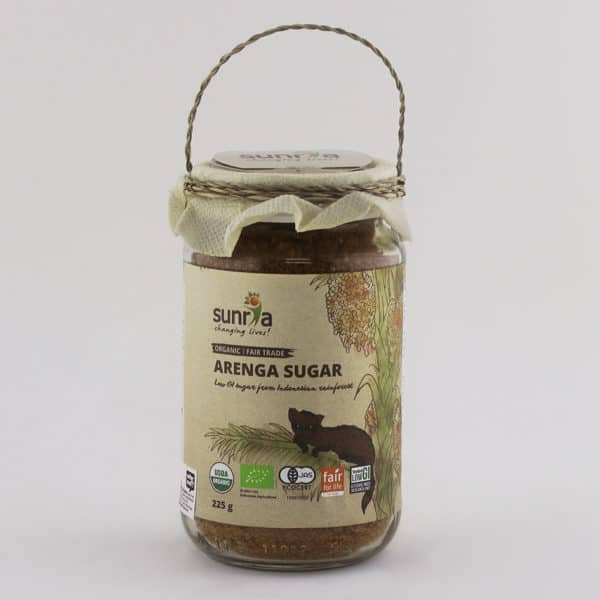 In stock
Sunria Organic Arenga Sugar, 225g
RM23.00
Sunria Arenga Sugar is the world's most delicious low GI sugar that is better for your health, and
is safe for diabetics!
Description

Additional information
It is 100% organic, whole, and unrefined natural sugar tapped from Arenga
trees in the rainforest, which can only be planted by Luwak, a native inhabitant. This wild civet
cats eat Arenga fruit and help scatter its seeds throughout the rainforest. After growing for ten
years, Arenga trees start to produce a sweet sap, which is evaporated with care to preserve its
nutrients, to become golden-brown crystals with the most captivating signature caramel aroma!
Sunria Sugar Project
Sunria works hand–in-hand with farmers to produce premium organic sugar. We help small-scale Indonesian farmers living in rainforest areas by introducing fair trade practices, and empowering them with skills to tap and handcraft sugar. By showing that tropical rainforests can be a valuable and sustainable source of income, Sunria farmers play an important role to protect these forests against logging, and slash and burn agricultural practice causing deforestation. With Sunria Luwak Sugar, enjoy the finest artisanal quality organic sugar to benefit your health, the environment, and humanity.
Qualities
Certified organic
Certified fair trade
Tested Low GI
| | |
| --- | --- |
| Weight | 0.3 kg |
| Country of origin | Indonesia |
| Ingredients | Certified organic and fair trade arenga sugar. |
| Storage | Store in a cool dry place. |