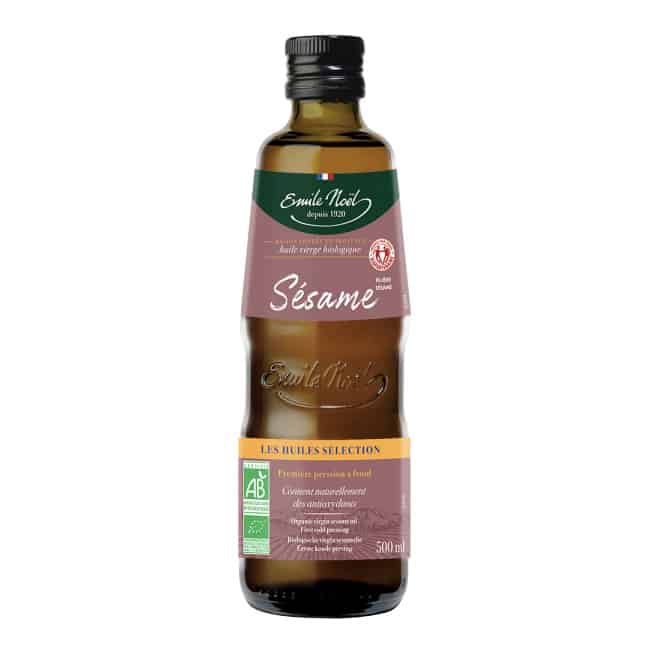 In stock
Emile Noel Virgin Sesame Oil, Fair Trade, 500ml
RM69.00
The Secret Macrobiotic and Ayurvedic Ingredient
Using certified Fair-Trade sesame seeds grown by local tribes in Mali, the sesame seeds are lightly toasted to release their flavor and aroma. It is then gently pressed using the traditional screw pressing machine.
These creates a sought-after aroma and appetizing oil which is a perfect addition for all oriental dishes. Particularly recommended for Asian, macrobiotic or ayurvedic recipes.
Description

Additional information
This is first cold pressed oil from certified organic and certified Fair Trade sesame seeds from Mali. Sesame oil contains a good amount of vitamin K which helps in proper mobilization and distribution of calcium in our body.
This can help in strengthening our bones and reduce unnecessary calcium deposition in our blood vessels.
It is also used traditionally to improve the conditions of our hair and nails.
Product Highlights
Strengthening of bones
Quality 
Certified organic.
Certified Fair Trade.
First cold-pressed virgin oil.
Unrefined.
Packed in dark amber bottle.
Nitrogen flushed to prevent oxidation before opening.
Ingredients
100% first cold pressed certified organic, sesame seed oil.
Country of Origin
France