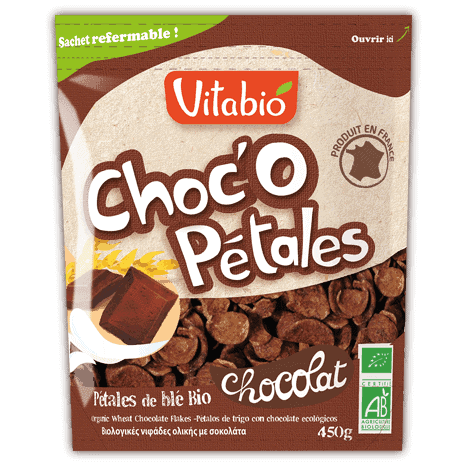 In stock
Vitabio Choc'o Flakes
RM36.50
Irresistibly crunchy chocolate flakes! All the richness of whole wheat for a terrific breakfast!…
Description

Additional information
Irresistibly crunchy chocolate flakes! All the richness of whole wheat for a terrific breakfast! A bowl of Choc'o Flakes sprinkled with breakfast beverage, gives you iron, magnesium, calcium… and irresistible crunchiness!
Product Highlight
A great breakfast with nutritional richness of whole wheat!
Quality
Made from certified organic ingredients.
Free from trans fat.
Vitabio Choc'o Flakes is 20% higher in protein and dietary fibre and lower in sugar compared to conventional leading brand!
Free from artificial additive such as preservative, colouring and flavouring.
France
Ingredients
Whole wheat flour*, wheat flour*, cocoa powder* , vanilla*), cane sugar*, barley malt syrup* and sea salt.
* ingredients from agricultural origin, organically grown (100%).