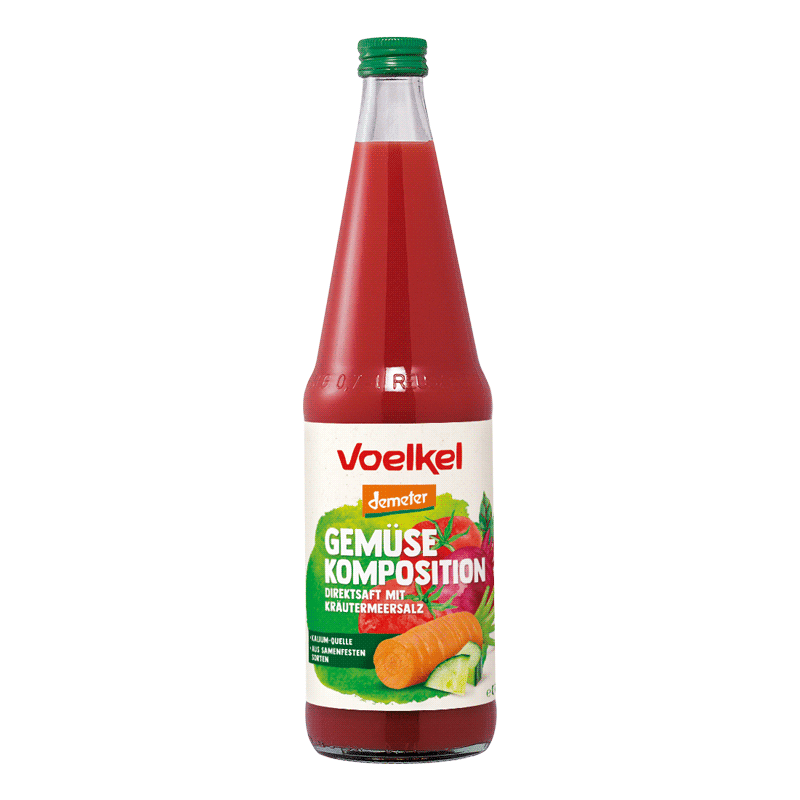 In stock
Voelkel Biodynamic Vegetable Composition with Lacto-fermented Juice, 700ml
RM33.50
Delectable "Minestrone" Veggie Juice
Not your everyday vegetable juice! Voelkel's vegetable composition is a mixture of more than 10 ingredients that will excite your tastebuds.
Packed with natural umami taste from tomato, celery and onion balanced with a pinch of herbal salt, this lacto-fermented wholesome juice has a delicious minestrone soup taste that will tempt your tastebuds!
Description

Additional information
What makes us different?
Easily digested lacto-fermented juice
Beneficial bacteria is added to the juice, allowing it to undergo lacto-fermentation. This process unlocks the hidden nutrients in plants, promoting better digestibility, health and creating a full-bodied tasting juice.
True organic & biodynamic juice pioneer
80 years ago, Voelkel began its first organic juice factory. Since then, it has been the pioneer of organic and Demeter juices, using both traditional and modern production techniques.
The Voelkel foundation was also established in 2011 to help further development and promote organic farming both locally and globally.
Certified Biodynamic juice
Beyond organic, biodynamic cultivation is the holistic approach to farming and healing of the planet.
Specially formulated preparation, manure and medicinal plants are used to increase the soil fertility, while sowing and harvesting times based on cosmic rhythms, which bring higher life force and retrieve the plant's natural characteristics.
Sustainable growth with long-term growers
"Responsibility for humankind and nature" is the ideal that Voelkel always works towards.
98% of Voelkel's suppliers are long standing partners. With these long-term partnerships and agriculture support, Voelkel ensures the sustainability and quality of their raw materials.
Grown from true seeds
True-to-seed varieties are seeds that are non-hybrid, without genetic engineering, have higher vitality and are reproducible; this is unlike commercial seeds, which cannot be reproduced and propagated.
Voelkel focuses on true-to-seed variety by supporting independent seed research and purchasing most non-hybrid organic vegetables.
Gentle processing, quality juice
The taste of natural plant ingredients, vitamins and minerals are largely preserved with gentle pressing and a special flash pasteurization method. Field fresh juice are also bottled immediately after pressing.
Certified FairBio & Fair Trade
Fairness is more than just fair price.
Voelkel supports fair trade and is committed to mutually agreed pricing and purchasing of locally available raw material whenever possible, creating social commitment, protection of the environment.
Environmentally friendly
Voelkel is dedicated to environmentally friendly production by recycling bottles and keeping resource consumption and emissions low by utilizing efficient processing.
Voelkel complies with the international environment management, DIN EN ISO 14001 and 500001.
Qualities
Company with more than 80 years history
Certified biodynamic
Lacto-fermented
Gentle processing
100% vegetable juice, not from concentrate
Non-GMO seeds
No preservatives, colouring or flavouring
Gluten and lactose free
Low-calorie
| | |
| --- | --- |
| Weight | 1.2 kg |
| Dimensions | 13 × 13 × 33 cm |
| Product of | Germany |
| Shelf Life | 24 months |
| Ingredients | Tomato Juice** 66%, carrot juice**ᶧ 13%, sauerkraut juice**ᶧ 6%, red beet juice**ᶧ 5%, celery juice**ᶧ 4%, cucumber juice**ᶧ 2%, paprika pulp**ᶧ 2%, onion juice**ᶧ, broad bean juice**ᶧ, dill juice**ᶧ, herbal sea salt (herbs*, sea salt). **Ingredients from certified biodynamic cultivation *Ingredients from certified organic farming |
| How to Use | Shake the natural sediments gently and consume directly, use within 5 days. |
| Storage | Store at a cool, dry place. Refrigerate after opening. |