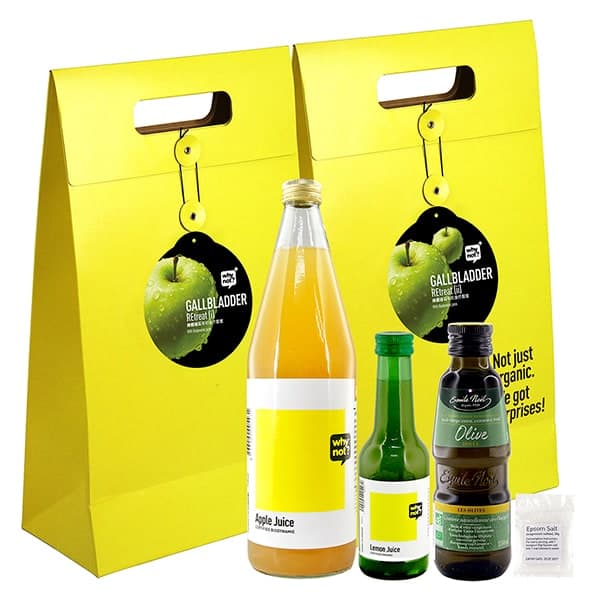 In stock
Why Not?® Gallbladder REtreat
RM229.00
Time proven natural solution to get rid of gall stones safely with organic wholesome…
Description

Additional information
Time proven natural solution to get rid of gall stones safely with organic wholesome foods. Come in handy packaging and serve as great gift idea for your love one.
Product Highlight
Unload the burden and get relief!
Quality
Each single product is made of raw materials cultivated using organic farming method. Free from pesticide residues, artificial additives and chemcals.
why not? Plus Gallbladder Retreat is an effective and safe detox solution with high therapeutic effect.
Ingredients
8 bottles of why not? Apple Juice, 1 bottle of Emile Noel Extra Virgin Olive Oil, 1 bottle of why not? Lemon Juice, 1 pack of epsom salt.
Weight
10.38 kg
Ingredients

Ingredients : 8 bottles of Why Not?® Apple Juice**, 1 bottle of Emile Noel Extra Virgin Olive Oil*, 1 bottle of Why Not?® Lemon Juice**, 1 pack of epsom salt.

**Ingredients from certified biodynamic cultivation *Ingredients from certified organic farming