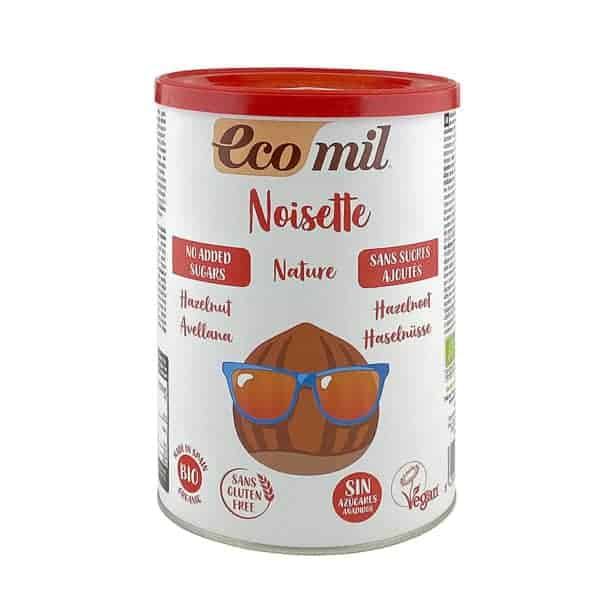 In stock
Ecomil Organic Hazelnut Drink Powder 400g
RM89.00
Surprise yourself
With our range of Ecomil Plant-based instant beverage
Instant beverage made hazelnuts that are especially good for the heart and brain.
Description

Additional information
Nutritious, delicious and well-balanced, EcoMil non-dairy drinks are a healthy alternative to dairy-milk and non-dairy drinks. They are a good source of high quality proteins and cholesterol-free.
Organic Plant-based Drinks
Choosing a vegetarian or vegan diet contributes to the well-being of the planet. Vegetable food production releases less CO2, and in this way, limits our environmental footprint. For example, producing beef generates ten times more CO2 than the production of vegetable, and a glass of cow's milk generates five times more CO2 than a glass of dairy-free drink.
Use less packaging consuming powder products
With our EcoMil organic plant-based milks in powder, we are helping to reduce the ecological footprint, as powder products are concentrated!
Indeed, with one can of plant-based milk in powder you can make approximately the equivalent of 4 or 5 Tetra Brik! That means less packaging and less transport!

Quality 
Certified organic
No added sugar*
Vegan and vegetarian friendly
Gluten free
Dairy free
GMO free
Allergy free
Not tested on animals
*When a product is said to be sugars-free to the consumer, it must contain no more than 0,5 g of sugars per 100 g or 100 ml.
Definition extracted from the Regulation (EC) No 1924/2006 of the European Parliament and of the Council of 20 December 2006 on nutrition and health claims made on foods.
Ingredients 
Partially defatted instant hazelnuts* (60%), corn maltodextrin*, pea protein*, sunflower lecithin*
*Ingredients from organic farming
Country of Origin 
Spain
Weight
0.500 kg
Product Dietary Choices

Gluten-free, Vegan, Vegetarian

Benefits

• Protects the heart and brain against damage
• Anti-aging
• Helps cholesterol control
• Best combined with walnut for Brain & Heart

Usage Instruction

Suggested Serving 
Add 2 – 3 tablespoons in a glass of cold or hot water or according to taste. Can also be added in coffee or tea and can also use in your recipes: sauces, cakes, pancakes and puddings.

Storage Instruction 
Keep the tin tightly closed after opening. Store in cool dry place. It is advisable to consume within 2 months after opening.