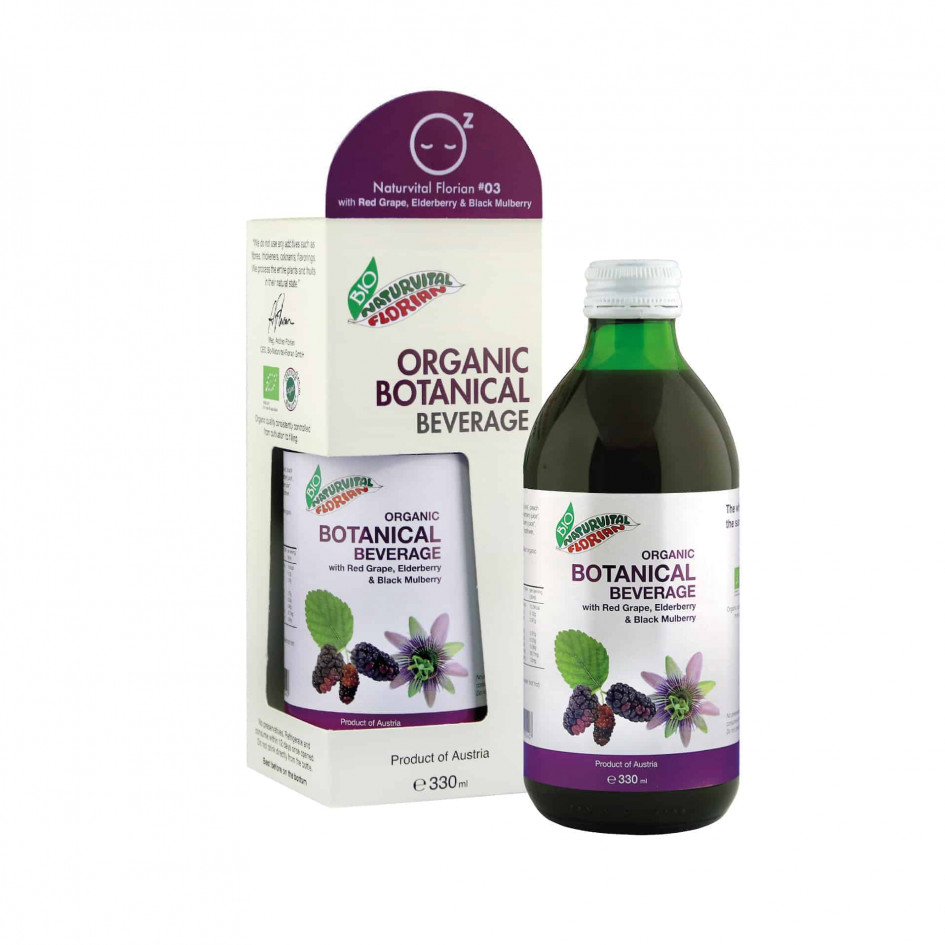 In stock
#03 Naturvital Florian Organic "Red Grape, Elderberry & Black Mulberry", 330ml
RM129.00
Organic Apothecary of Ancient Wisdom
For over 80 years since 1934, Naturvital Florian® has been working on plant remedies inspired by time-proven recipes and the wisdom of traditional herbal remedies such as Chinese medicine, Ayurveda and Tibetan medicine.
Let food be thy medicine and trust in Nature's power to heal.
Description

Additional information

Benefits
What makes us different?
1. Over 80 Years of Herbal Medicine
A pioneer of the herbal medicine industry in Europe, Austrian company Naturvital Florian® has been dedicated to researching and developing various herbal remedies since 1934.
2. Remedies from Ancient Wisdom
Inspired by therapeutic practices honed for thousands of years such as traditional Chinese medicine, Indian Ayurveda, Tibetan medicine and other ancient wisdom.
3. Herbs from Over 80 Varieties
A comprehensive and diverse selection of organic herbs and spices all rich in bioactive healing substances are used, providing synergy effects that far surpass what a single extract could do on its own.
4. Fruits at their Fullest
Fruits are chosen not merely for their taste, but more importantly, their healing properties. Various berries, apricots and red grapes which are superfruits with the highest antioxidant levels are used.
Not a single drop of water is added, but instead, juices and purees are extracted from only the ripest and freshest of fruits. This is because only fully matured fruits have the highest amount of bioactive substances.
5. Completely Wholesome
Each part of a plant has a unique quality, so we strive to use every part of the herb or fruit. Using the entire plant provides more diverse nutrients compared to an extract from a single part of the plant.
Qualities
• Certified organic by Austria's Bio-Garantie
• Wholesome: WHOLE plants/fruits are used
• Liquid form: Better absorbed than capsules or powder form
• No water added: 100% direct pressed juice. NOT from concentrate
• No added sugar or artificial sweeteners
• No alcohol
• No preservatives, colouring or flavouring
• No thickeners
• Gluten and lactose free
• Vegetarian/vegan friendly
Weight
0.58 kg
Product of

Austria

Ingredients

Red grape juice*, peach puree*, apple juice*, elderberry juice*, aronia juice*, black mulberry juice*, herb infusion*(melissa, hopflower, passiflora), acerola.
* All ingredients are from certified organic cultivation.  

How to Use

For adult, take 30ml per serving, 1 – 2 servings daily.

For children (6 years – 12 years old), take half the dosage of adult. 

Can be taken neat or diluted with water. Measuring cup is provided. Best to consume 30 minutes before meal.

Storage

Store in a cool, dry place away from direct sunlight. Once opened, refrigerate and consume within 2 weeks.
Benefits
Herbs to the rescue:
➊ Melissa:
• Increases GABA amino acids in the brain, which are linked with feelings of comfort and joyfulness.
• Reduces anxiety, improves focus for those with ADHD.
➋ Passiflora:
• Promotes deep sleep.
• Helps reduce menopause symptoms.
➌ Black mulberry:
• Nourishes the kidney's "Yin". Also tonifies liver and kidneys, which leads to restful sleep.

Recommended for:
• Stressful lifestyle
• Insomnia or poor sleep quality
• Mood swings
• Post-menstrual syndrome (PMS)
• Weak kidneys