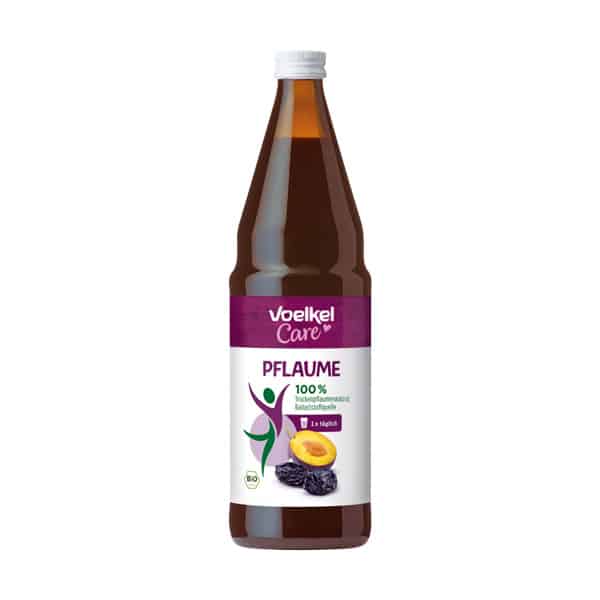 In stock
Voelkel Organic Juice Care Plum, 750ml
RM39.00
450g of Fresh Prunes in Every Glass
This "velvety" fruit drink contains the goodness of sun-dried and unsulphured plums. It is particularly gentle as it does not contain additional lemon juice and sugar.
A serving of 250ml contains 57.5g of sun-dried plums equivalent to about 450g of fresh plums.
Description

Additional information

Reviews (0)
What Makes us Different?
Freshness Preserved
They are pasteurized by a special heating process whereby the juice is heated quickly to 60 – 85°C and immediately cooled. Besides killing off harmful bacteria, this process also preserves vitamins and nutrients that would otherwise be lost in conventional pasteurization.
No Juice Concentrate
Made purely without concentrate and sugar. This ensures that every drop of juice gives you a fresh and all-natural taste of the fruits within.
Sun-dried
Dried gently under the sun maintains more goodness compared to harsh industrial drying.
Unsulphured
Free from sulphured that is used to preserve colour.
Pioneer in Europe
Produced in Germany with over 80 years and four generations worth of tradition, Voelkel is one of Europe's leading brands of organic juice.
Community & Green Initiatives
Voelkel supports local orchard cultivation by prioritizing fair trade and establishing long-term, personal relationships with their fruit and vegetable growers. Their crops are grown without genetic engineering while juices are produced using electricity from renewable energy sources.
Qualities:
Certified organic
High in fibres
High in antioxidants
Made with sun-dried & unsulphured plums
NOT from concentrate
No added sugar or artificial sweeteners
No GMO fruits
No preservatives, colouring or flavouring
Gluten and lactose free
Vegetarian / Vegan friendly
Pasteurized
Weight
1.2 kg
Country of Origin

Germany.

Ingredients

Water, plums* 23.2%

*Ingredients from certified organic farming

Usage

Can consume directly or mix with your favourite beverages.

Storage

Store at a cool, dry place. Avoid from direct sunlight. Refrigerate and consume within 5 days once opened.