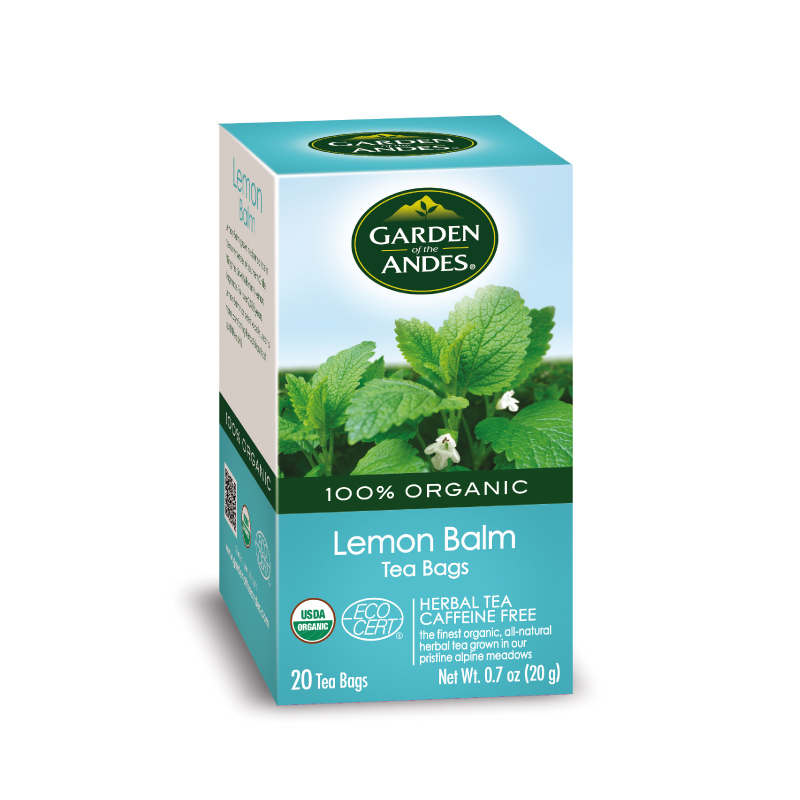 In stock
Garden of The Andes Organic Lemon Balm Tea, 20 bags
RM16.90
Lemon balm is a herb in the mint family. It has a lemon scents, which have a calming and relaxing effect. Lemon balm contains rosmarinic acid (a chemical compound with antioxidant properties). It has traditionally been used to improve mood and cognitive function.
Description

Additional information
Garden of The Andes is committed to ecologically sound business, nurturing the finest herbs in the lush valleys of the Andes Mountain since 1875.
What makes us different?
Old and gold
Garden of the Andes is a family-owned company founded since 1875 in Chile. The business has been committed to organic farming for over one century and continue working in preserving the mother earth.
Sustainable farming in the pristine Andes Mountains
To ensure ecologically sound business and perfect quality, Garden of Andes cultivates own herbs such as chamomile and mint from seedlings to harvesting in the lush valleys of the Andes Mountains. They also reproduce herbs from the plant seeds.
Organic sourcing
Some teas are not cultivated in the Andes valley due to the nature and different climate requirement. Finely ginger and lemongrass are sourced from Germany produced with the meticulous standard in terms of organic farming and social accountability.
State of the art tea manufacturing
Owning the world's most modern tea plant, Garden of Andes processes a total of 8 million tea bags per day, using excellent techniques and technology. The quality and consistency of every cup
is guaranteed.
Fresh and green packaging
Garden of the Andes herbal teas are packed in unbleached double chamber teabags, free from staples and glue. It is secured with system of knots. Each bag is protected with paper envelope that guarantees optimum freshness. All packaging is recyclable.
Qualities
100% Certified organic
Packed in unbleached double chamber tea bags, free from staples and glue
No preservatives, colouring or flavouring
Caffeine Free
Vegetarian / Vegan friendly
GMO free
Sustainably produced
Practice crop rotation
Fourth generation, founded since 1875
| | |
| --- | --- |
| Weight | 0.07 kg |
| ingredients | organic lemon balm tea leaves |
| country of origins | Chile |
| storage | Store at a cool, dry place. Avoid from direct sunlight. |